Our Practice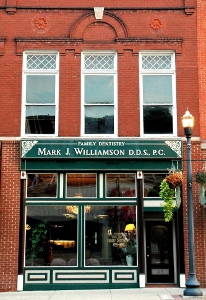 Our Motto
"EVERY JOB YOU DO IS A SELF PORTRAIT, AUTOGRAPH YOUR WORK WITH EXCELLENCE !"

Our Facility
We are proud of our facility and what it means to the community. Our office was originally built in 1882 in Downtown Flushing. Dr. Mark purchased the building in 1992 with the goal of restoring the building to its previous grandeur. Dr. Mark worked with the historical society at both the state and federal levels to insure an accurate restoration. As you enter the front door, you may feel as if your walking into the finest of Victorian Hotels. The exceptional care you will receive is an extension of that feeling.

Appointment Scheduling
If you are interested in making an appointment, please contact our office either by telephone at 810-659-4561 or by e-mail through our convenient Contact Page. Our scheduling coordinator, Amy, would be happy to assist you. If this is your initial visit, please download our new patient forms , fill them out and bring them with you on the day of your appointment.

First Appointment Protocol
Children and young adults under 25 years of age: We understand our patient's time is very important to them. In this age group, we find that the patient's treatment needs are more predictable. This group of patients will be scheduled with our hygiene department for a thorough prophylaxis (cleaning), any necessary x-rays and an examination by Dr. Mark. Typically this is all that is required in an initial visit. On a rare occasion, a second appointment may be needed to complete this phase of treatment. Children are typically seen for their first visit at the age of three.
Adults 25 years old or older: With this group of patients, we feel it is advantageous to have your initial examination with Dr. Mark prior to scheduling your cleaning appointment. If available, we will gather any pertinent x-rays from your previous dentist prior to this appointment. Should we find that more recent x-rays are needed, they will be taken at this time. Following a complete and thorough examination including a cancer screening, Dr. Mark will answer your questions and address your chief complaints. He will also establish how much time will be required to complete your prophylaxis (cleaning). Our goal is to have your first experience be positive and educational. Keep in mind that there are always multiple treatment options and Dr. Mark will explain the advantages and disadvantages of each. He feels that patient education is the most important tool in any patient's decision making process.

CareCredit®

Click here to apply now!
Financial
Our experienced dental team will be happy to submit all insurance forms on your behalf. Our goal is to help you maximize your dental benefits and still maintain exceptional care. If you require comprehensive treatment, you will be presented with a copy of your treatment plan and our best estimate of total cost. We respect the fact that many patients have a 'budget' for their dental needs. It is not uncommon for a treatment plan to be spread out over time. We feel it is important to work with our patients on an individual basis and to stay within their financial comfort level.
Methods of payment include cash, check, Master Card, Visa and CareCredit®. CareCredit® allows our patients to apply for a credit line for 3 or 6 month same as cash options.

Emergency
All of our patients will be seen on the day they call with an emergency. Our Team is compassionate about the dental profession and the care our patients receive. If our office is closed and you need assistance or have a question, Dr. Mark's cell number will be available to you.

Cancellation Policy
Your appointment time is reserved just for you. If you are unable to keep an appointment, we kindly ask that you provide us with at least a 24 hour notice. This gives our office the opportunity to offer this time to another patient. A fee may be charged if a patient does not provide adequate notice.

Music
Listen to calming acoustic music from Sirius XM satellite radio as you relax in our office.